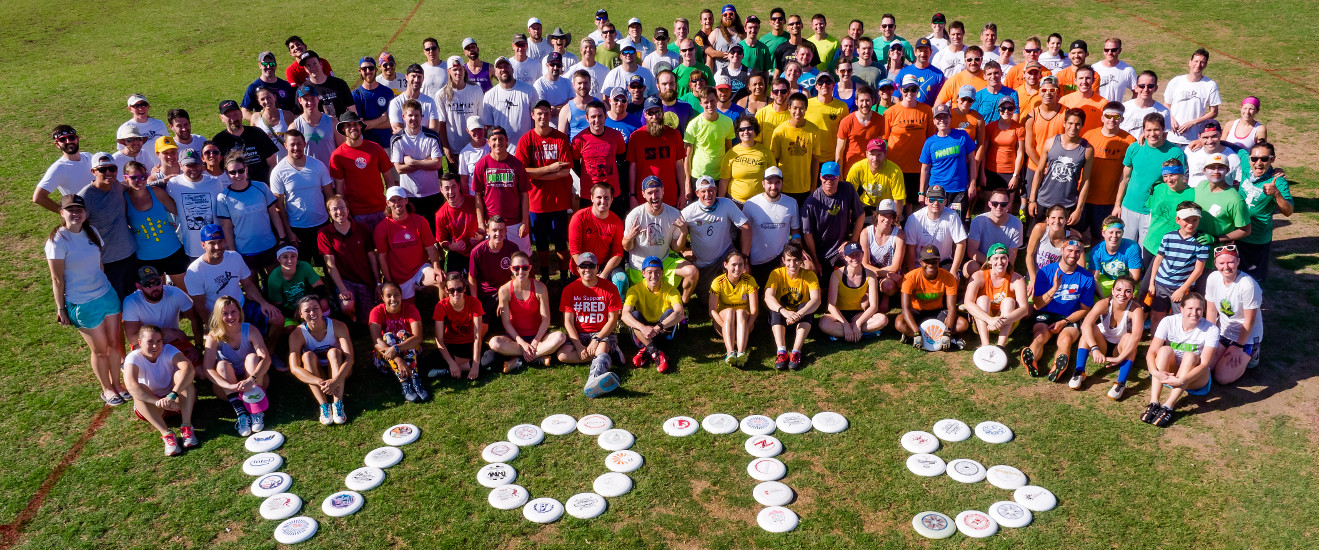 Winter Leagues 2019 ~ Schedule & Results
Standings
(win-loss, then point differential among tied teams (denoted by numbers in parentheses),
then point differential for divisional games, then disc flip)
| Men's Teams | Win | Loss | Pt. Diff. |
| --- | --- | --- | --- |
| Team 2 | 3 | 1 | +13 |
| Team 3 | 3 | 1 | +0 |
| Team 1 | 0 | 4 | -13 |
Captains, please send your scores to the webmaster.
Schedule/Scores
Games are at Tempe Benedict and Pecos Park
Cones:
Teams labeled SET UP are responsible for setting up fields before games on that field.
Teams labeled PICK UP are responsible for picking up cones at the end of the evening, taking them with, and bringing them the next week.
Scheduling Note:
We have enough men for three teams. Two of those teams will play each other Tues (12/3). The third team will be remixed with the registered women to form two coed teams that play that Tuesday only. On Thursday (12/5) a different match up of two of the men's teams and the remaining men's team will be combined differently with the available women to form two completely new mixed gender teams that will play that Thursday only. And so on. Full schedule to come.
So, with one game in January (once we see our January fields) the men will have four games and one bonus mixed gender game. Women will have their fees refunded since we could not form a women's league, but they will still get three mixed gender (4/3 ratio) games.
Team 1
William Christensen
Randy Collins
Michael Gehrke
Chris Griffin
Jake Hadziev
Mike Hall
Andrew Kelley
Andrew Kohl
David Lyon
Tyler Mebane
Brian Miller
Eric Nabity
Nikolas Rivera
Benjamin Roth
Pete Wesselius
Brandon Zink
Team 2
Zachary Boe
Shawn Buxton
Gus Estrano
Kris Kaufman
Kevin Liu
Ian McNamara
Mikey Nassief
Paul Otto
Michael Sedillo
Zachary Shaffer
Tyler Sleeman
Nate Smith
Stuart Sokoloff
Tim Streit
Hunter Walker
Logan Waskiewicz
Team 3
Darren Bateman
Daniel Blumenfeld
Joel Collingwood
John Dietrich
Kevin Doherty
Chris Dolan
Austin Dougless
Adam Gaboury
Chris Humphrey
Jacob Kuna
Brad Kutler
Vick Mehta
Karl Mueller
Jordan Reichlin
Jia Xie
Evan Yamada
Tuesday, December 3rd
Cones
Team
Field
Team
Cones
Team 1
16
17
Team 2
Agave
15
13
Saguaro
Thursday, December 5th
Cones
Team
Field
Team
Cones
Team 1
16
17
Team 3
PICK UP
Roadrunner
5
15
Coyote
Team Agave (12/3)
Paige Kelley
Sabrina Roberts
Nadine Rutherford
Cynthia Thomas
Andrea Torvinen
Carmen Zazueta
Darren Bateman
Joel Collingwood
John Dietrich
Austin Dougless
Brad Kutler
Karl Mueller
Jia Xie
Evan Yamada
Team Saguaro (12/3)
Lindsey Doyle
Kody Lippincott
Katherine Nabity
Katie Rutenbar
Hayley Shanks
Jody Sheets
Daniel Blumenfeld
Kevin Doherty
Chris Dolan
Adam Gaboury
Chris Humphrey
Jacob Kuna
Vick Mehta
Jordan Reichlin
Team Roadrunner (12/5)
Katie Rutenbar
Nadine Rutherford
Hayley Shanks
Cynthia Thomas
Andrea Torvinen
Shawn Buxton
Paul Otto
Tim Streit
Stuart Sokoloff
Nate Smith
Tyler Sleeman
Gus Estrano
Team Coyote (12/5)
Lindsey Doyle
Paige Kelley
Katherine Nabity
Sabrina Roberts
Jody Sheets
Carmen Zazueta
Kris Kaufman
Kevin Liu
Logan Waskiewicz
Hunter Walker
Zachary Boe
Michael Sedillo
CANCELLED
Tuesday, December 10th
Cones
Team
Field
Team
Cones
PICK UP
Team 2
N/A
N/A
Team 3
SET UP
Peppermint
N/A
N/A
Eggnog
Thursday, December 12th
Cones
Team
Score
Score
Team
Cones
Team 2
15
5
Team 3
SET UP
PICK UP
Peppermint
N/A
N/A
Eggnog
Guys of Team 1, please, PICK UP cones.
Team Peppermint (12/12)
Lindsey Doyle
Katherine Nabity
Sabrina Roberts
Andrea Torvinen
Kelly Waskiewicz
William Christensen
Chris Griffin
Jake Hadziev
Tyler Mebane
Brian Miller
Nik Rivera
Brandon Zink
Team Eggnog (12/12)
Kody Lippincott
Nadine Rutherford
Hayley Shanks
Jody Sheets
Cynthia Thomas
Randy Collins
Michael Gehrke
Andrew Kelley
Eric Nabity
Benjamin Roth
Pete Wesselius
Tuesday, December 17th
Cones
Team
Score
Score
Team
Cones
SET UP
Team 1
10
15
Team 3
PICK UP
Thursday, Jan. 9th
Cones
Team
Score
Score
Team
Cones
SET UP
Team 1
9
15
Team 2
PICK UP
Wednesday, Jan. 22
Cones
Team
Score
Score
Team
Cones
SET UP
Team 2
Pecos
1w
Team 3
Subject to change.
For more information, contact LD Tim Steit.