New Year Ultimate Fest XXXIII
Tournament Details
As of 1/30/15, 10:17 - NYF XXXIII has been CANCELLED.
Message from Jim Moore:
"I have talked to the Director of Operations at Reach 11 and they have cancelled use of their fields. I apologize for any inconvenience and look forward to seeing you all in the future."
Fields
New Year Ultimate Fest 33 will be held at one site, the Phoenix Reach 11 Sports Complex.
NO GLASS at the fields.
NO ALCOHOL allowed at the fields.
NO DOGS. Unless it is one of the service type.
New Year Fest Fields are located on Reach 11 Fields 1-10. Follow the signs to fields 1-10!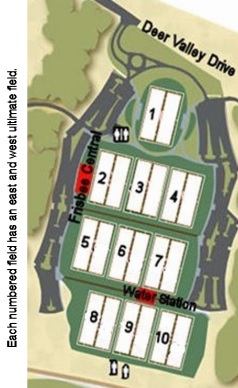 View NYF 33 in a larger map
Party & Hotel Information
The party will again be held at the Comfort Inn Phoenix North on Saturday evening!
Address: 2641 W. Union Hills Drive, Phoenix, AZ 85027
Phone Number: 602.978.2222
Hospitals/Emergency Rooms
The two nearest emergency rooms are:
Bid Guidelines
Step 2: Submit Entry Fee
Entry fee is $400
Payment options:
Payment will only be accepted online via PayPal by "sending money to family or friends" to treasurer@vots.org and using a PayPal balance or checking account so that no fees are deducted.
Refund policy for canceled bids (subject to change):
Before 12/20/14: Full refund
Between 12/20/14 and 1/10/15: 50% refund
After 1/10/15: no refund
Subject to change.