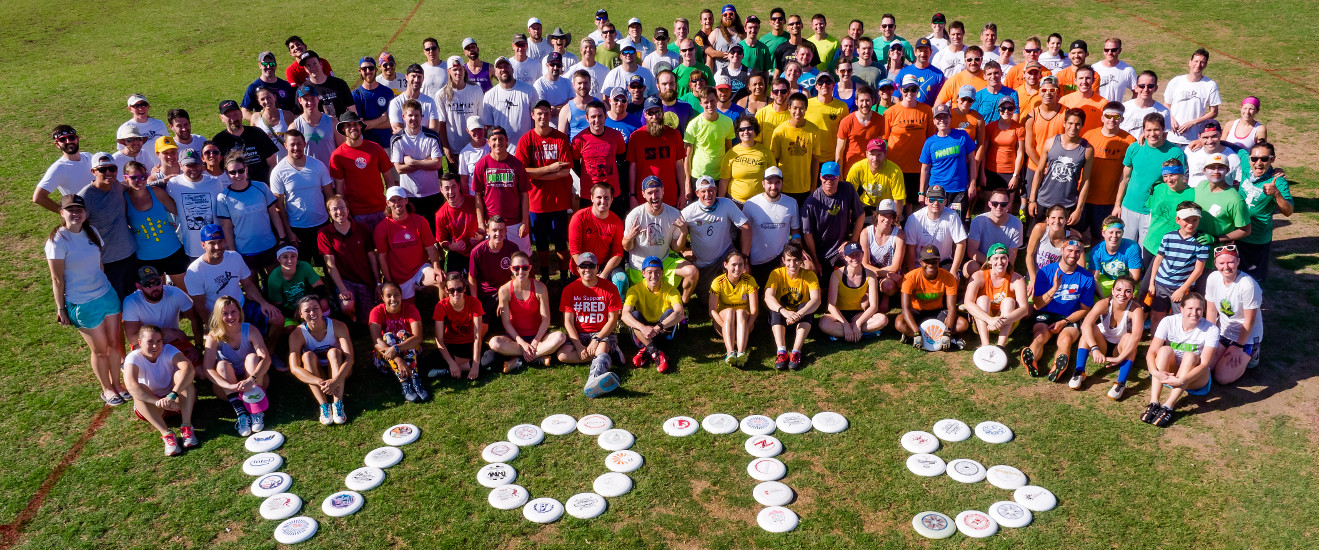 Fall League 2005 ~ Playoffs
Congratulations to The Team That Must Not Be Named
Fall League 2005 Champions!
Pools
Pool A
1. Flatballahz (3-0)
2. Slangin' Plastik (2-1)
3. Blade Runners (1-2)
4. Winter of Disc-content (0-3)
Pool B
1. Lobster Disque (1-2)
2. Paula Abdul (3-0)
3. The Spy Who Hucked Me (2-1)
4. Bums Fighting (0-3)
Pool C
1. The Team That Must Not Be Named (3-0)
2. Texas Huck'em (1-2)
3. Random Fling (2-1)
4. Snatch (0-3)
Pool D
1. America... Huck Yeah! (3-0)
2. Volunteer Hucking Department (2-1)
3. Tenacious D (1-2)
4. Dry Hucking (0-3)
Playoff Schedule & Results
Round
Start
Game to
Soft Cap
Hard Cap
1
12:30
A1(13) v A2(8)
A3(13) v A4(4)
C1(13) v C2(5)
C3(8) v C4(7)
D1(12) v D(8)2
D3(10) v D4(5)
13
1:35
1:45
2
2:00
A1(13) v A3(7)
A2(11) v A4(7)
C1(13) v C3(4)
C2(12) v C4(11)
B1(9) v B2(10)
B3(13) v B4(3)
13
3:05
3:15
3
3:30
A1(13) v A4(5)
A2(13) v A3(9)
D1(11) v D3(8)
D2(12) v D4(10)
B1(12) v B3(13)
B2(11) v B4(5)
13
4:35
4:45
4
5:00
C1(13) v C4(4)
C2(8) v C3(13
D1(13) v D4(6)
D2(11) v D3(8)
B1(10) v B4(9)
B2(12) v B3(9)
13
6:05
6:15
Semis
6:15
11/17
Flatballahz (10) v
America... Huck Yeah! (13)
TTTMNBN (15) v
Paula Abdul (6)
15
7:40
7:50
Finals
8:15
11/17
TTTMNBN (15) v
America... Huck Yeah! (14)
15
9:40
9:50
Playoff Rules
Playoff Rules
Mirror image at half (half at 7; semis/finals 8) with no time out for the mirror
3 timeouts per game
soft cap horn will be blown 10 minutes before hard cap horn
no timeouts after soft cap horn blows. If one is called, it is a turnover
pool games, first to 13 wins
We will play according to the same gender rules (5/2) that governed the regular season. Captains can alter this if both agree, for example, allowing 6/1, but the rule is 5/2 and a team may choose to require that strictly, for example, forcing an opponent to play with fewer than 2 women. However, teams are allowed to play more than 2 women.
Pool Winner determination
Pool Record
Pool Point Differential among tied teams
Overall Pool Point Differential
Head-to-head record in regular season
Regular Season record
Season Point Differential
*Boat race for first point won by Lobster Disque. Bums Fighting lodges protest for failure to keep boat down longer than about 20 seconds. Competition committee is taking the matter under advisement. No ruling expected any time soon.